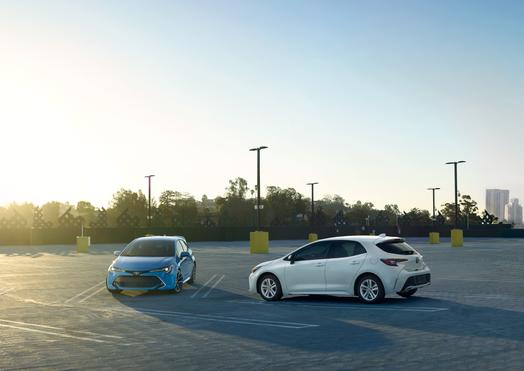 The brand-new 2019 Toyota Corolla Hatchback is an ideal car for families, couples, and solo adventurers. The vehicle's construction prioritizes both style and comfort. At MotorWorld Toyota, our Toyota dealership understands that drivers expect the best from the Toyota brand. The latest Toyota Corolla Hatchback delivers on those expectations.
Toyota is celebrating the innovative design with a new national advertising campaign.
"With this campaign, our goal was to authentically connect with our target audiences in unique ways... We have created an assortment of intriguing executions that highlight the energy and excitement of creating new experiences and living life in the moment," Lisa Materazzo, vice president vehicle marketing and communications, Toyota Motor North America, said.
The 2019 Toyota Corolla Hatchback is a technologically advanced, reliable vehicle equipped with an array of useful features. Drivers can feel more secure behind the wheel with the help of Toyota's safety features, like Lance Tracing Assist, Road Sign Assist, and Dynamic Radar Cruise Control.
With two optional trim level levels, the SE and XSE, the 2019 Toyota Corolla Hatchback is the perfect vehicle for a lot of drivers. Those who care about entertainment options will love the 8-inch touchscreen display while those who love to feel a powerful engine under their control will appreciate the 2.0-liter four-cylinder engine.
Toyota drivers demand excellence. If the Toyota Corolla Hatchback doesn't suit your needs perfectly, there are lots of other Toyota models that you can test drive at our Wilkes-Barre, PA dealership. We have Toyota cars for sale that will satisfy your needs as a driver.
We're located at 150 MotorWorld Drive. Stop by and speak with one of our team members today. We can get you into a Toyota vehicle that you'll love.